Creating Value from Energy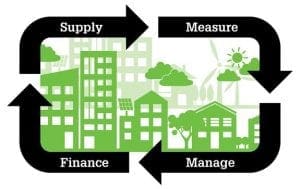 Enerpro is North America's only provider of full-service, intelligent, energy management programs for new construction and infrastructure upgrades in retrofitted buildings, since 1996.
Enerpro leads the market with a unique, integrated approach. We recognize technology is a tool, enabled by knowledge, and engaged by people. These three essential elements underpin our customized programs.
Why Manage Energy?
For the planet and for your bottom line.
Buildings use a lot of energy, in fact, they are responsible for 40 percent of the world's increasing energy demand. Energy and water are expensive, and the logistics and economics of the systems these resources use, has significant bottom line impacts.
Enerpro helps create buildings that are carbon neutral, and to retrofit existing buildings to reduce their carbon footprint. Only a systemic, performance proven energy management program delivers sustained reduction in energy consumption, and optimizes the many factors required for financial results.
Enerpro's programs make buildings run better. Enerpro aligns knowledge, technology and people — bridging gaps in the complex and fragmented process of multiple energy and water uses in a building. Full-service energy management programs from Enerpro bring consistent, positive economic outcomes.
Our Energy Management Systems
For Environmental and Economic Results
Our comprehensive suite of services and technologies support the on-demand characteristics and complexities of the continuous cycle of energy and water management.
We manage all traditional types of water and energy systems (natural gas, electricity) as well as leading edge technologies such as geothermal, solar, wind and fuel cell. The results are measureable, economic, environmental and sustainable.
Innovative finance models reduce capital outlays and give a structured revenue model that pays you in savings.
Decrease consumption by optimizing performance and raising occupant awareness. Recover administration costs by enhancing property management effectiveness.
That's more than a list of recommendations.
Its results that count.
For your bottom line and the environment too.
The Business Case for Energy Efficiency …is the whole picture
When building managers look at the whole energy picture of a building the benefits become clear. Many of Enerpro's customers have adopted the "energy attitude" Read more on Enerpro News and Resources…